school news
Returning to Campus
Working together for a safe return to on-campus learning.

Dear Parents,

We now have plans in place for the return of two classes to campus this month. These two classes had a clear majority of students where families felt ready to return. Please read on for details.

Our County's Health: Orange Tier Status
As of today, Santa Clara County has completed 14 consistent days meeting Tier 3 qualifications, which means we are now officially in the Orange or Moderate Tier. As a reminder, we have moved from the Widespread or "Purple" Tier, (Tier 1)  to the Substantial or "Red" level (Tier 2) since the summer. Present day cases are still higher than we experienced last April, but are on a steady downtrend as you can see on the county site.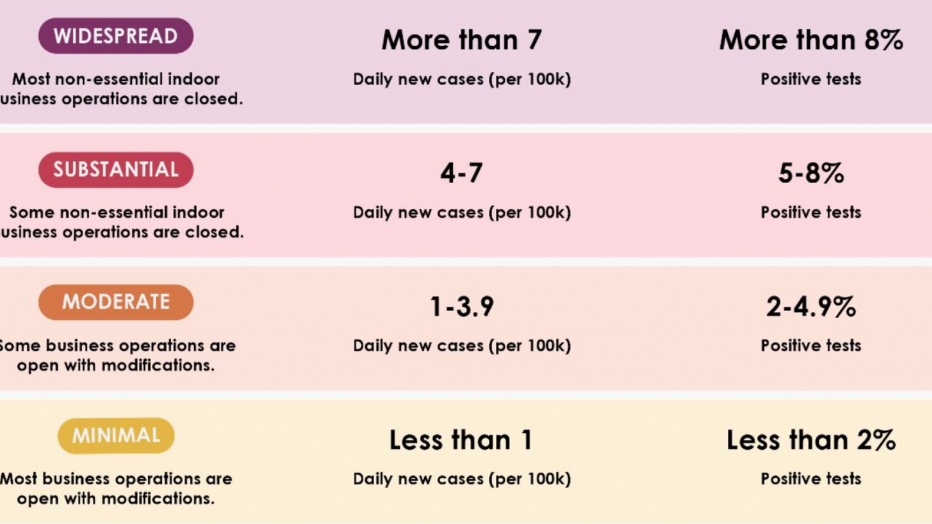 First Day Back, Monday, October 19:  Level 3, Ms. Victoria's class
We are starting with these students who are a little older, to see how easy or challenging it is to carry out all the safety protocols required. Families in this class will receive a separate message this week with a form to complete in order to sign up for on-campus learning and providing more details. Distance students will be serviced by video for group lessons, as well as one-on-one time with both Ms. Linda and Ms. Victoria. Schedules will obviously undergo some adjustment again.

In order for this class to be open on campus, we will need at least 6 students to choose on-campus learning. If we do not get 6 families enrolling, then Level 3 will need to continue at distance learning until that enrollment is reached.

First Day Back, Monday, October 26: Level K, Ms. Adina will be the on-campus teacher.
About 10 families have indicated they would like to have their child attend Kindergarten on campus. This includes some new students -- families who have simply been waiting for on-campus learning to be possible. The first week will be a half day, with the longer day beginning November 2.

In Level K, Ms. Adina will be the on-campus teacher and Ms. Hailey will be the distance learning teacher. Therefore, a couple students will switch teachers depending on their choice. Once these new classes have been established, students will stay with that teacher even if the on-campus class needs to return to distant learning for a period. If your choice requires a change of teacher, Ms. Brenda has reached out to you for a personal conversation.

Other Levels Returning:
The return of additional Levels to campus will be evaluated over the next few weeks as we see how county health improves and what we run into with just these first two groups in the building. The involvement of volunteer parents in the Task Force is very appreciated as we make these assessments and fundraise for important technology, safety or staffing needs to service all our learners -- both at distance and on campus.
Goals:
1) Safely reopen campus classrooms with input from teachers, parents and staff;
2) Effectively improve the distance learning experience through continued study and adoption of new technologies and methods that can help learners from afar.

Thank you all for your support as we work together on this transition while keeping abreast of often-changing rules and mandates. Your suggestions and feedback are appreciated and welcome.

Warm regards,

Ms. Kimi
Head of School